Montréal se réjouit du système d'infodivertissement de la Giulia 2020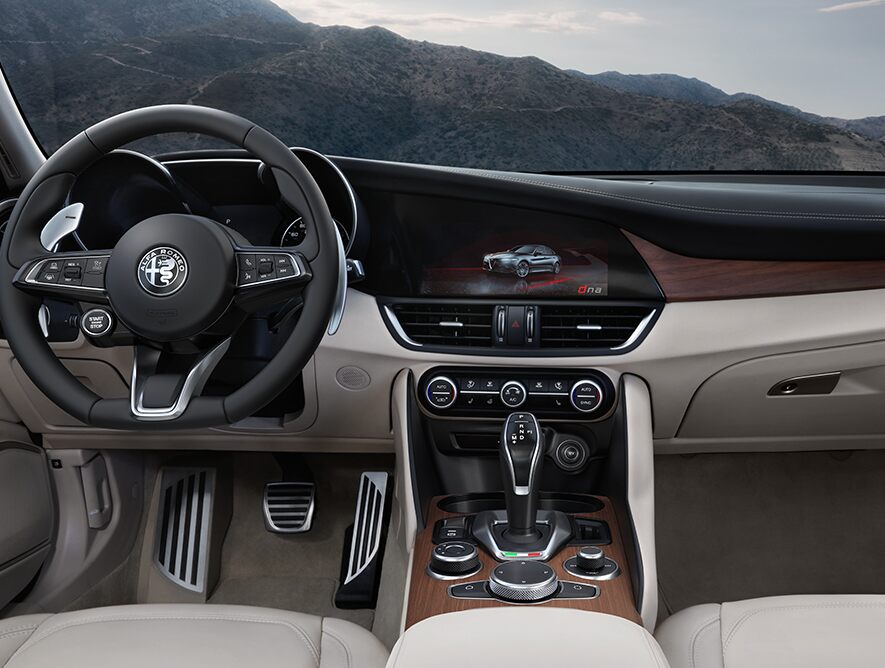 On le sait très bien que l'Alfa Romeo Giulia 2020 offre un style et un pouvoir exceptionnel sans parallèle. Avec 280 HP et 306 lb de torque c'est assez évident. Mais le niveau d'adrénaline est renforcé grâce à son ensemble d'infodivertissement.
On arrive à accéder à tout à l'aide de son écran tactile LCD de 8.8 pouces. Non seulement a-t-elle une précision remarquable dans toutes les conditions, elle est aussi entièrement personnalisable avec des widgets interactifs.
L'Alfa Romeo Giulia s'est assuré d'être compatible avec Apple Carplay et Android Auto, ce qui vous rendra la vie plus facile, peu importe le téléphone utilisé. En plus, les commandes sont hypers faciles d'accès puisqu'elles sont intégrées au volant. Mais ne vous inquiétez pas, votre téléphone ne manquera pas de jus bientôt, puisque la Giulia vient équipée d'un chargeur sans fil, question que vous n'ayez plus besoin de vous casser la tête.
Écoutez! On s'entend qu'avec 14 haut-parleurs de clarté Harmon Kardon, vous allez attendre que votre toune soit finie avant de sortir de l'auto. Oui, vous avez bien lu, 14. Chantez-la votre chanson, on ne vous entendra pas!
Vous voulez le constater par vous-même? Téléphonez-nous dès aujourd'hui chez John Scotti Alfa Romeo à Montréal

-------------------------------------------------------------------------------------------------

Montréal Drivers Thrilled By 2020 Giulia's Infotainment Package

The 2020 Alfa Romeo Giulia is an all-around wonder in every respect. Sure, its power is well publicized—280 HP and 306 lb.-ft of torque—and its sensational style is readily apparent and unparalleled in its class. That's not where the motoring magic ends, however. This sport sedan ratchets adrenaline levels even higher thanks to its infotainment package, which boosts connectivity and offers entertainment excellence.
Want a large, modern display? The 2020 Giulia delivers. This mighty machine comes with a now-standard, fully customizable 8.8-inch touchscreen with interactive widgets and razor-sharp LCD performance for a crisp display in all conditions. Since smartphones are an everyday part of our lives, Alfa Romeo has been sure to integrate both Apple CarPlay and Android Auto compatibility. The steering wheel provides mounted audio controls for easy access to media at high speeds, and an available wireless charging station keeps your devices juiced up for the duration of your journey.
Oh, and audiophiles, you haven't been neglected. The 2020 Alfa Romeo Giulia comes packed with a sophisticated Harmon Kardon system complete with 14 speakers. You'll jam out with enhanced clarity across all ranges and a tremendous bass boost.
Like what you're hearing? Give us a call today at John Scotti Alfa Romeo in Montréal to learn more!